Momsanity
Natural BCAA Powder- Orange Crush - Naturally Flavored, Sweetened and Colored
NATURAL BCAA POWDER No artificial sweeteners, preservatives, or dyes.

GREAT TASTING NEW ORANGE CRUSH FLAVOR. 

Ideal 3:1:1 ratio of Amino Acids

SWEETENED WITH STEVIA, ERYTHRITOL, AND MONK FRUIT.  

40 Servings.
by Coach Debbie   
I don't even want to tell you the top 3 foods I crave.  Because then you'll start craving them AND be mad at me.  But let's just say I like sugar and I like carbs.  My body, however, knows that I need not put those in my mouth on the regular if I want to look and feel my best.    Yeah, I give in on occasion, but I have a better strategy to combat cravings that typically hit me around 3:05pm and 8:45pm.   BCAA's.  Huh?  Branched-Chain Amino Acids.  That's right, I drop acid (just joking).   ...
by Coach Debbie A couple of years ago, my kids came home talking some kind of foreign language to me about the "Whip Nae Nae" and then they'd wave their hand overhead.  "Ummm what?  Was there a fight at school?" I foolishly ask.  My sons laughed at me (typical) and said, "No, Mom, you know, the Whip Nae Nae."   I promptly went up on the Google to see if my kids were now in a gang or taking drugs. Much to my delight, I learned this was a fun new choreographed dance craze that all the cool kids were loving.  So...
By Emily Saunders 
If you're like me you likely look at supplements (especially those for exercise performance) VERY cautiously. As in, I almost always roll my eyes when people start asking me about the new magical pill or powder that their friend is selling. At Momsanity we advocate real food. We also advocate understanding your body and its deficiencies and supplementing accordingly (with the help of an integratively minded physician). We also value research. And I mean research that isn't funded by the company promoting the product. Years ago when someone suggested I try taking BCAAs to enhance my workouts, aid in my...
by Coach Debbie   
I love food.  I love eating.  I'll admit I've been in the middle of eating lunch while envisioning dinner.  So let me just say before I step onto my soap box that it is crucial that you eat enough food throughout the day.  Starving is not an option.  It doesn't help you lose weight or feel thin.  It destroys your body in about 18 ways.   That said, some of us (ahem, Debbie included), so easily slip into the habit of OVEREATING.  "Was I even hungry or did the clock dictate my meal?"  "Was that a craving that could've...
by Coach Debbie   
Got questions about BCAAs? Let's see if we can answer them! Please remember that we cannot provide medical advice for certain conditions so those are best discussed with your doctor. We CAN talk about our experiences and those of our Momsanity Sisters etc. so that's what we'll do! 1. When should I take BCAAs? Any time! We suggest 2 to 3 scoops per day. They can be taken in the morning as a coffee replacement, pre/post-workout, mid-afternoon to blunt cravings and fatigue, and any time cravings strike. Lots of ladies enjoy adding 1/2 to 1 scoop to a giant water...
By Emily Saunders 
If you've done much supplement research in the health and fitness world then you've likely heard of BCAAs which stands for Branch Chain Amino Acids. Sounds complex right? Since you're a busy Mom who is probably already doing science homework with your kids I'm going to break it down for you quickly and simply WHAT are BCAAs?  Branch chain amino acids consist of leucine, isoleucine and valine, which are essential building blocks of muscle.  They occur naturally in the body, but many times we deplete our stores through stressors like every day life and exercise. Leucine:  Helps promote muscle...
---
Share this Product
---
More from this collection
Customer Reviews
07/07/2021
Lesley J.

United States
Orange Crush BCAA's
Love mixing Orange Crush with Cherry Lime ! My favorite. It's now become a habit to fill up my momsanity bottle with BCAA's every morning before I head to work!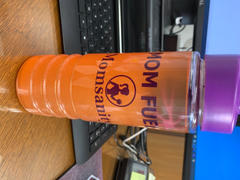 06/07/2021
Stephanie O.

United States
Orange Crush- BCAA Powder
I love the Orange Crush flavor so much! I drink mine during my workout and also to help keep me from snacking in between meals. The flavor is so good and not overpowering at all.
05/25/2021
Heidi J.

United States
Orange Crush is my favorite
I love my BCAAs for post work-outs and for the afternoon slump. They help me keep moving forward without caffeine or sugar.
05/21/2021
Lesley J.

United States
Orange Crush BCAA's
Great- love my BCAA's, not sure what I did before them. Use them everyday!
04/27/2021
Rosa S.

United States
BCAA
I love the orange BCAAs. I can when I don't drink them daily.