Momsanity
CRAVE and Frother Bundle
The perfect bundle to beat your cravings! Momsanity's CRAVE and Handheld Power Frother and Stand.
Momsanity's 
CRAVE
Momsanity's CRAVE cocoa blend provides an instant "chocolate fix" without the guilt. CRAVE is a decadent treat that erases cravings while benefiting your body. Made from nature, indulge in the most delicious way to improve brain and heart health, control blood sugar and weight, reduce inflammation and enhance calmness*. Packed with antioxidants, our captivating confection can be savored by the entire family in hot or cold cocoa, coffee and desserts.
NO DAIRY
NO SUGAR
NO ARTIFICIAL SWEETENERS
30 SERVINGS
Low-calorie CRAVE contains no artificial sweeteners, no artificial flavors, no preservatives, no-GMOs, no dairy, no soy and no gluten.
Directions:
Mix 1 scoop CRAVE cocoa powder in 8 to 12 ounces hot water or milk substitute (using a frother or blender) any time hunger or cravings strike.
FREE RECIPES for Drinks and Treats available HERE
For Best Results
Use in conjunction with a fat-loss friendly diet plan and hormonal based exercises.
Momsanity's Power Frother and Stand
Make the perfect rich and creamy froth in seconds. This handheld frother creates luxurious hot chocolates, lattes, cappuccinos, chocolate milks, protein shakes and more.
The battery-powered frother silently delivers delicate froth in seconds. The one-touch power button makes it easy to blend both hot and cold drinks with its 19,000 RPM motor.
This beautifully designed frother is a must-have in your kitchen, and even comes with a convenient stand for easy storage.
Lightweight and portable, simply run under water to instantly clean. Treat yourself to delicious drinks without leaving your home or office.
Perfect for mixing your Momsanity shakes, Crave drinks, coffee and more!
*These statements have not been evaluated by the Food and Drug Administration. This product is not intended to diagnose, treat, cure or prevent any disease.
---
Share this Product
---
More from this collection
Customer Reviews
02/21/2021
Shirley W.

United States
Purchase
The crave is delicious and easy to prep. The momsainity chocolate shake is the best tasting shake I have found that fits my 56 day plan .
01/20/2021
Leslie W.

United States
Great product
Excellent! Love Crave and the frother is a must!
01/04/2021
Lesley J.

United States
Crave and Frother
I love Crave, use it a lot. I put it in my coffee and use my frother to mix it and add a little almond creamer. So good! I've been making a chocolate/peppermint version of this during the holidays!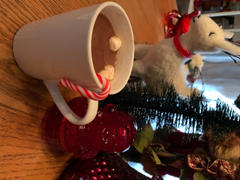 12/26/2020
Krista K.

United States
Love this product!
Takes my coffee to a new level!! That is what I wanted to use it for and it didn't disappoint! The frother definitely makes the difference.
12/24/2020
Annette L.

United States
Yummmm
Been using my Crave to make Crave hot chocolate with warmed almond milk whipped with the frother! makes it extra creamy with a layer of foam on top. Sometimes a spoon full of unsweetened coconut cream accompanys the mug!!