Momsanity
CRAVE A Nutritious Cocoa Blend that Naturally Satisfies - 30 servings
Momsanity's CRAVE cocoa blend provides an instant "chocolate fix" without the guilt. CRAVE is a decadent treat that erases cravings while benefiting your body. Made from nature, indulge in the most delicious way to improve brain and heart health, control blood sugar and weight, reduce inflammation and enhance calmness*. Packed with antioxidants, our captivating confection can be savored by the entire family in hot or cold cocoa, coffee and desserts.
NO DAIRY
NO SUGAR
NO ARTIFICIAL SWEETENERS
30 SERVINGS
Low-calorie CRAVE contains no artificial sweeteners, no artificial flavors, no preservatives, no-GMOs, no dairy, no soy and no gluten.
Directions:
Mix 1 scoop CRAVE cocoa powder in 8 to 12 ounces hot water or milk substitute (using a frother or blender) any time hunger or cravings strike.
FREE RECIPES for Drinks and Treats available HERE
For Best Results
Use in conjunction with a fat-loss friendly diet plan and hormonal based exercises.
*These statements have not been evaluated by the Food and Drug Administration. This product is not intended to diagnose, treat, cure or prevent any disease.
---
Share this Product
---
More from this collection
Customer Reviews
09/15/2020
Theresa G.
United States
Awesome ETA shipping!
I absolutely love Momsanity protein powder and the crave! This is my 3rd container of the crave that I've purchased. I use one scoop in my breakfast smoothie everyday! It really does seem to help curb my cravings for sweets and I will continue to order this product for as long as I can. Keep up the great work ladies!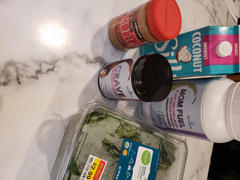 09/07/2020
Kim S.
United States
CRAVE
Yummy!!! I can't wait to try some recipes!!!
08/28/2020
Heather H.
United States
I crave CRAVE!
I have a canister of Crave at work and at home. It's great to mix with hot water for an afternoon pick me up when my 'coffee time' is over. I also enjoy it at night while I watch a show, it prevents me from eating! :)
08/03/2020
Cortney H.
United States
Crave is so delicious!
I use the crave everyday in my smoothie! I use the chocolate protein powder and a half scoop of crave along with the spinach, strawberries, fairlife chocolate milk, 1/2 banana & hemp seeds! The crave is what gives it the extra chocolate flavor!!
08/03/2020
Celeste H.
United States
Satifies my sweet tooth!
I love this drink powder. I use it as my hot chocolate at bed time to get my sweet need fix. Love it. I don't feel guilty using this.